Plastic Vci Bags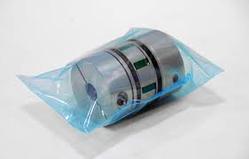 Plastic Vci Bags
Product Description
Plastic VCI Bags are used to packaging of metal parts, automotive and electronic parts. These bags protect metals from corrosion by forming a thin, invisible layer on the surface. These bags provide most effective packaging solution for protection against rust and corrosion for both ferrous, non-ferrous metal and also multi metal surfaces, spares, parts assemblies and finished goods. Plastic VCI Bags are suitable for must metal and multi metal surfaces which include carbon steel, silicon steel and galvanized steel for storage, transit and shipments. These bags cover in custom sizes, thickness and colours to take care of most critical requirements of individual clients. Plastic vci bags are used to protect goods from catching rust. The offered bags are manufactured under the guidance of our professionals using premium quality materials. Being a quality oriented enterprise; we assure our customers that these Vci Plastic Bags are excellent on counts of performance.
Features of Plastic Vci Bags
:
Resistivity to adverse conditions
High durability
Tear resistance
FAQs of Plastic Vci Bags:
Q: What Are Plastic VCI Bags?
Plastic VCI bags are particular bundling bags produced using plastic materials that contain worked in fume stage consumption inhibitors (VCI) to safeguard metal things from rust and erosion during capacity and transportation.
Q:
How Do Plastic VCI Bags Function?

Plastic VCI bags discharge unstable erosion repressing mixtures that structure a defensive layer around metal surfaces, keeping dampness and destructive specialists from arriving at the metal and causing rust.



Q:
What Sorts of Metal Things Can Be Bundled in Plastic VCI Bags?

Plastic VCI bags are reasonable for bundling a great many metal things, like machined parts, parts, devices, auto parts, gadgets, and hardware.



Q:
What Are the Advantages of Utilizing Plastic VCI Bags?

Plastic VCI bags offer advantages, for example, forestalling rust and consumption, expanding the timeframe of realistic usability of metal things, taking out the requirement for oil or coatings, and giving a spotless and simple to-utilize arrangement.



Q:
What Materials Are Plastic VCI Bags Produced using?

Plastic VCI bags are commonly produced using plastic movies that are impregnated with VCI compounds. The plastic movies are chosen for their strength and boundary properties.